Docteur en Médecine, Spécialiste en Chirurgie Orthopédique et Traumatologie
Inscrit au conseil de l'ordre de Alpes-Maritimes (France) sous le numéro : 06/13205
Inscrit au General Medical Council (Royaume-Uni) sous le numéro : 7473244
(Full registration with specialist registration and license to practice)
Ma formation s'est effectuée au sein des hôpitaux universitaires de Nice, Brest et Versailles.
➤ Ancien externe des hôpitaux de Nice
➤ Ancien interne des hôpitaux de Brest et de Versailles
➤ Ancien Chef de Clinique des Universités
➤ Ancien assistant des hôpitaux de Brest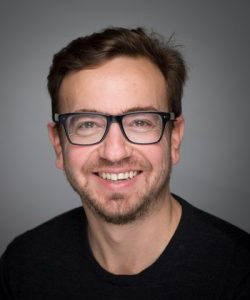 J'ai effectué quatre années de Clinicat partagées entre le CHRU de Brest et un « fellowship » en chirurgie du genou dans la prestigieuse Université d'Oxford (Royaume-Uni)
➤ Research Fellow à l'Oxford Orthopaedic Engineering Centre, NDORMS, University of Oxford
➤ Clinical Fellow au Nuffield Orthopaedic Centre, Oxford University Hospital
Je dispose aussi de plusieurs Diplômes Inter-Universitaire
➤ Pathologie chirurgicale du Genou
➤ Traumatologie du Sport
➤ Pédagogie Médicale
Master 2 en Sciences sur le thème de l'ingénierie tissulaire osseuse
➤ Assistant de Recherche au laboratoire CEA-UNSA MATOs (UMR 4320), Faculté de Médecine de Nice
Mes principaux centres d'intérêt
➤ La chirurgie prothétique du membre inférieur (première intention et reprise)
- prothèse de hanche mini invasive par voie antérieure
- prothèse de genou unicompartimentale et totale
➤ La chirurgie assistée par ordinateur (prothèses naviguées)
➤ La traumatologie du sport
- Ligamentoplasties, chirurgie des ménisques, tendinite, pubalgie
Membre des Sociétés Savantes
➤ SoFCOT (Société Française de Chirurgie Orthopédique et Traumatologique)
➤ SICOT (Société Internationale de Chirurgie Orthopédique et Traumatologique)
➤ AAOS (American Academy of Orthopedic Surgery)
➤ Girdlestone Orthopaedic Society (Société de Chirurgie Orthopédique de l'Université d'Oxford)
Relecteur et correcteur pour les Revues Internationales
➤ OTSR (Orthopaedic Traumatology: Surgery and Research)
➤ International Orthopedics
➤ Muskuloskeletal Surgery
➤ Tissue Engineering
MES PUBLICATIONS
MES COMMUNICATIONS
MES PUBLICATIONS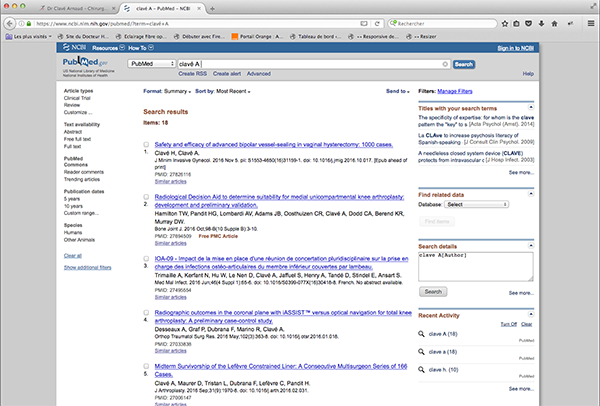 2017
Reproducibility of length measurements of the lower limb by using EOS™.
Clavé A, Maurer DG, Nagra NS, Fazilleau F, Lefèvre C, Stindel E. 
Musculoskelet Surg. 2017 Nov 1. doi: 10.1007/s12306-017-0518-4. 
Safety and Efficacy of Advanced Bipolar Vessel Sealing in Vaginal Hysterectomy: 1000 Cases.
Clavé H, Clavé A.
J Minim Invasive Gynecol. 2017 Feb;24(2):272-279. doi: 10.1016/j.jmig.2016.10.017. Epub 2016 Nov 5.
2016
Radiological Decision Aid to determine suitability for medial unicompartmental knee arthroplasty: development and preliminary validation.
Hamilton TW, Pandit HG, Lombardi AV, Adams JB, Oosthuizen CR, Clavé A, Dodd CA, Berend KR, Murray DW.
Bone Joint J. 2016 Oct;98-B(10 Supple B):3-10.
Radiographic outcomes in the coronal plane with iASSIST™ versus optical navigation for total knee arthroplasty : A preliminary case-control study.
Desseaux A, Graf P, Dubrana F, Marino R, Clavé A.
Orthop Traumatol Surg Res. 2016 May;102(3):363-8.
Midterm survivorship of the Lefèvre Constrained Liner : A Consecutive Multisurgeon Series of 166 Cases
A. Clavé, D. Maurer, L. Tristan, F. Dubrana, C. Lefèvre, H. Pandit
J Arthroplasty. 2016 Feb
Aetiology of Lateral Progression of Arthritis following Oxford Medial Unicompartmental Knee Replacement: a case control study
H. Pandit, B. Spiegelberg, A. Clavé, C. McGrath, AD. Liddle, DW. Murray
Musculoskelet Surg 2016 Jan
Influence of experience on intra- and inter-observer reproducibility of the Crowe, Hartofilakidis and modified Cochin classifications
A. Clavé, L. Tristan, A. Desseaux, F. Gaucher, C. Lefèvre, E. Stindel
Orthop Traumatol Surg Res 2016 Apr ;102(2)-159-9
Measuring the joint line level in revision total knee replacement: A new measurement method and functional results at mean 7 years follow-up
A. Clavé, G. Le Henaff, T. Roger, P. Maisongrosse, C. Mabit, F. Dubrana
Int Orthop 2016 Jan
Third-Generation Autologous Chondrocyte Implantation versus Mosaicplasty for Knee Cartilage Injury: 2-Year Randomized Trial
A. Clavé, J.F. Potel, E. Servien, P. Neyret, F. Dubrana, E. Stindel
J Orthop Res 2016 Apr
2015
Can computer-assisted surgery help restore leg length and offset during THA? A continuous series of 321 cases.
Clavé A, Sauleau V, Cheval D, Williams T, Lefèvre C, Stindel E.
Orthop Traumatol Surg Res (2015) Epub 2015 Oct 21
Comparison of the reliability of leg length and offset data generated by three hip replacement CAOS systems using EOS™ imaging.
Clavé A, Fazilleau F, Cheval D, Williams T, Lefèvre C, Stindel E.
Orthop Traumatol Surg Res. 2015 Oct;101(6):647-53.
2014
Comparison of the inter- and intra-observer reproducibility of the Crowe, Hartofilakidis and modified Cochin classification systems for the diagnosis of developmental dysplasia of the hip.
Clavé A, Kerboull L, Musset T, Flecher X, Huten D, Lefèvre C, Gaucher F, Stindel E; French Hip & Knee Society (SFHG).
Orthop Traumatol Surg Res. 2014 Oct;100(6 Suppl):S323-6.
2012
Total talar fracture - inter- and intra-observer reproducibility of two classification systems (Hawkins and AO) for central talar fractures.
Williams T, Barba N, Noailles T, Steiger V, Pineau V, Carvalhana G, Le Jacques B, Clavé A, Huten D.
Orthop Traumatol Surg Res. 2012 Jun;98(4 Suppl):S56-65
Voies d'abord du genou.
Clavé A, Cheval D, Williams T, Dubrana F.
Technique Chirurgicales – Orthopédie Traumatologie, Encyclopédie Médico-chirurgicale, Elsevier Masson [44-720] - Doi : 10.1016/S0246-0467(14)60175-6
Prothèses Unicompartimentales: Full PE versus Metal-Back
Clavé A, Williams T, Lejacques B, Dubrana F.
Cahiers d'enseignement de la SOFCOT: Prothèses Unicompartimentales de genou. 2012 Philippe Neyret, Sébastien Lustig
Lateral meniscus injuries in knees without associated damage: 10 years follow-up study.
F. Fazilleau, A. Clavé, N. Poirier, D. Le Nen, F. Dubrana
Journal de Traumatologie du Sport 2012 ;29:184–191
2011
Efficiency of tranexamic acid on blood depletion in total hip arthroplasty benefiting from an anticoagulation by rivaroxaban
Clavé A, Fazilleau F, Dumser D, Lacroix J.
Orthop Traumatol Surg Res. 2012 Sep;98(5):484-90
Évaluation de l'efficacité d'une membrane d'interposition en collagène de type I d'origine porcine dans la prévention des adhérences après suture tendineuse : une étude expérimentale sur le tendon achilléen du rat
A. Zemirline, A. Clavé, A. Uguen, V. Kerdreux, S. Loisel-Guilcher, D. Le Nen.
Chirurgie de la Main, Dec 2011 ; 30(6):422-2
Mini-Invasive vaginal hysterectomy with thermo-fusion hemostasis
Clavé H, Clavé A.
J Visc Surg Jun 2011;148(3):189-196.
2010
Biphasic calcium phosphate micro-particles for bone formation: benefits of combination with blood clot
T. Balaguer, F. Boukhechba, A. Clavé, S. Bouvet-Gerbettaz, C. Trojani, JF. Michiels, JP. Laugier, JM. Bouler, GF. Carle, JC. Scimeca, N. Rochet.
Tissue Engineering Part A. 2010 Nov;16(11):3495-3505.
Polypropylene as a reinforcement in pelvic surgery is not inert: comparative analysis of 100 explants.
Clavé A, Yahi H, Hammou JC, Montanari S, Gounon P, Clavé H.
Int Urogynecol J Pelvic Floor Dysfunct. 2010 Mar;21(3):261-70.
Evolution de la fonction rénale avant et après traitement endovasculaire d'un anévrysme de l'aorte abdominale en fonction du mode de fixation proximale de l'endoprothèse.
Gouny P, Salley N, Clavé A, Gueret G, Badra A, Nonent M.
e-mémoire de l'Académie Nationale de Chirurgie 2010;9(1):89-95
2009
Substituts osseux, tolérance des biomatériaux
Rochet N, Boukechba F, Balaguer T, Clavé A, Trojani C, Bouler JM, Laugier JP, Carle G, Michiels JF.
Rev. Fr. Histotechnol. 2009;22(1):75-85
2008
La couverture des artères rénales par une endoprothèse est-elle vraiment anodine?
Gouny P, Salley N, Clavé A, Gueret G, Badra A, Nonent M.
Annales de chirurgie vasculaire 2008, Edouard Kieffer
2002
Anatomical study of the blood supply of the coxal bone: radiological and clinical application.
Yiming A, Baqué P, Rahili A, Mayer J, Braccini AL, Fontaine A, Leplatois A, Clavé A, Bourgeon A, de Peretti F.
Surg Radiol Anat. 2002 May;24(2):81-6
MES COMMUNICATIONS
2013
SOFCOT 2013 :
Comparison of three Hip Navigation Systems's accuracy by EOS® stereoradiography.
2011
SOFCOT 2011 :
Efficiency of tranexamic acid on blood depletion in total hip arthroplasty benefiting from an anticoagulation by rivaroxaban
Clavé A, Fazilleau F, Dumser D, Lacroix J.
SHAM Award: Managment of Surgical Risk
2009
BoneTec 2009, Hannovre, Allemagne :
Development of a rat model of femoral bone defect to investigate the osteogenic potential of new biomaterials
SOFCOT 2009 :
Development of a rat model of femoral bone defect to investigate the osteogenic potential of new biomaterials
Journées des jeunes chercheurs, Brest, France :
Analysis of 100 explanted meshes for complications after pelvic floor surgery
2008
American Association of Gynecology and Laparoscopy, AAGL, Las Vegas, USA :
« Analysis of 100 explanted meshes for complications after pelvic floor surgery »